BE9 Livestream
---
[:en]The BE9 crew will be broadcasting LIVE from Dana Ruh's new established record shop KMA60 in Berlin.
On board head honcho Fabe and our BE9 newcomer Baris, they got them hot & spicy tunes waiting for you.
On top of that we gathered forces with a long time friend and old Mannheimer Nekes.
Come by and enjoy with us a nice friday afternoon in Berlin, drinks are ready!
All facts:
STREAMED LIVE VIA FACEBOOK
@: KMA60 Store Berlin
T: 16:00 – 20:00
Fabe (BE9)
Nekes (Belisa Booking)
Baris (BE9)
Drinks are cold and ready, also some last BE9 "Groovecity" Shirts available!
Dont miss out on this one, BEtogether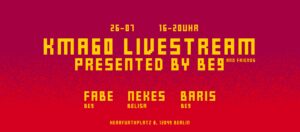 [:]